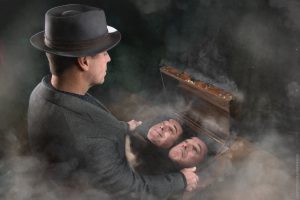 Tony Brent, the "One-Man Cast of Dozens", serves up a theatrical event which you will not soon forget.  The setting is his childhood living room and, you, the audience, will play the part of his family and friends as you experience the amazing magic, hysterical impressions, outrageous characters, and tons of fast-paced audience participation by a true original. Although it's nearly impossible to categorize Tony, the tens of thousands of people worldwide who have flocked to see him live since 2000 all say the same thing that USA TODAY has said; "He Is Hilarious."
Tony's trademarks include his impressions of pop-culture icons along with characterizations of people both real and imagined.  He glides in and out of character, sometimes by vocal inflection alone or by using wigs and costume pieces.  His offbeat, fast- slow- fast timing keeps even the most "attention-span-challenged" audience members on the edge of their seats.  According to the critics, his show is entirely original and unique.  Tony's magic skills are honed to perfection and his freewheeling style and rapid-fire improvisational comedy skills ensure that no two shows are exactly alike.
After ending his busy touring schedule in the late 1990's to raise a family in Orlando, Tony became a favorite staple in the Florida tourism industry.  He has given thousands of energetic performances for the public as well as for prestigious corporations, but he is most known as the star and producer of the "Outta Control Magic Comedy Dinner Show," the longest-running, one-man dinner show in the world.   Located at WonderWorks on the famed International Drive in the heart of the Orlando tourist district, the "Outta Control Show" has garnered raving fans from around the globe and recognition within the family entertainment and tourism industry worldwide.
Although he has a background in acting in commercials, film, and television in the 1980's, Tony has mostly abandoned the camera since setting up residence in Florida.  Because his routines are mostly "character-based" he has avoided the glut of reality television shows and instead, has focused on family time.